---
Cichlid ®Bio-Gold+
A daily diet for cichlids utilizing bio-technology for superior coloration. Great for larger tropical fish requiring higher protein levels. Hikari® Cichlid ®Bio-Gold+ is the result of a technological breakthrough allowing us to include probiotics—beneficial living micro-organisms which provide many visible benefits.
BENEFITS
Contains Our Proprietary Beneficial Living Microorganism - Hikari Germ™(probiotics)
Super-charges the digestive process to utilize the nutrition in each pellet
Visible improvement in coloration
Accelerated growth potential
Visible waste reduction and improved water quality
Floating Pellet
Will not cloud the water
Allows easy monitoring of amount eaten to eliminate over-feeding
Excellent Daily Diet Containing Stabilized Vitamin C
Supports immune system health
Outstanding nutrition to promote a long, health-filled life


FEEDING
Feed two to three times daily the amount your fish will completely consume in a few minutes. Care should be taken to avoid over-feeding and always remove uneaten food after feeding period to avoid health impacting water quality issues.

Note: Cichlid ®Bio-Gold+ contains higher levels of natural ingredients which may cause a slight change in color from one production lot to another. Rest assured because of our rigid quality standards each package meets our superior nutritional specification.
NUTRITION
Fish meal, wheat flour, brewers dried yeast, corn gluten meal, soybean meal, fish oil, spirulina, DL-methionine, garlic, dried seaweed meal, dried Bacillus subtilis fermentation product, astaxanthin, choline chloride, vitamin E supplement, L-ascorbyl-2-polyphosphate (stabilized vitamin C), inositol, d-calcium pantothenate, riboflavin, vitamin A supplement, thiamine mononitrate, pyridoxine hydrochloride, niacin, folic acid, vitamin D3 supplement, biotin, disodium phosphate, salt, ferrous sulfate, magnesium sulfate, zinc sulfate, manganese sulfate, copper sulfate, calcium iodate.* 05-49D
* Because of our commitment to providing the highest quality nutrition available, some differences in ingredients may occur due to regular formula updates.
| Crude Protein | Crude Fat | Crude Fiber | Moisture | Ash |
| --- | --- | --- | --- | --- |
| min. 45.0% | min. 5.0% | max. 2.0% | max. 10.0% | max. 15.0% |
| Phosphorus | B.Subtilis | Vitamin A | Vitamin D3 | Vitamin E | Ascorbic Acid |
| --- | --- | --- | --- | --- | --- |
| min. 1.0% | min. 1.0x109 CFU/g | min. 18,000 IU/kg | min. 2,800 IU/kg | min. 1,500 IU/kg | min. 330 mg/kg |
HIKARI GERMS
Saki-Hikari™ offers your pet improved nutrient utilization through more efficient assimilation. This can translate into better water quality with continued use.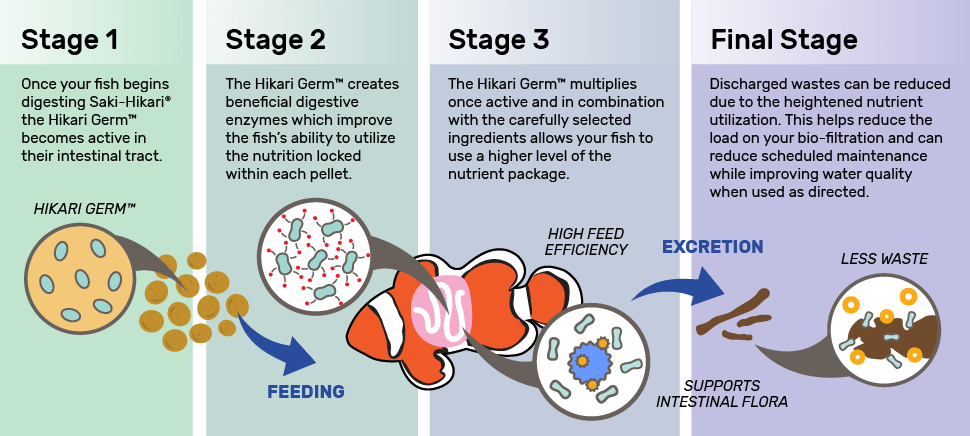 SIZES
Packaging & Pellet Size(s)
| Mini Pellet | Medium Pellet |
| --- | --- |
| 2 oz. (57g) - #15211 | 8.8 oz. (250g) - #15328 |
| 8.8 oz. (250g) - #15228 | 2.2 lb. (1kg) - #15366 |